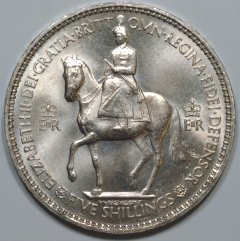 Elizabeth II on Horseback on 1953 Crown
1953 - Coin of the Year -1953
Elizabeth II on Horseback on 1953 Crown
It has become traditional for a crown, a five shilling piece, to be issued for the coronation year of British monarchs. In 1953 an equestrian portrait of the queen was used, showing the queen mounted sidesaddle. This recalled designs used for Charles I over 400 years earlier. The reverse of the crown shows four shields bearing the arms of each of the four component parts of the United Kingdom, with national symbols between them.
Other notable events of 1953 include Tito becoming president of Yugoslavia, the death of Joseph Stalin, the unravelling of DNA, and the first ascent of Mount Everest.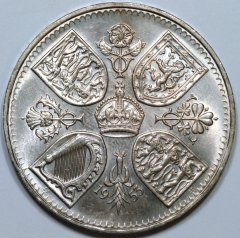 Reverse of 1953 Crown